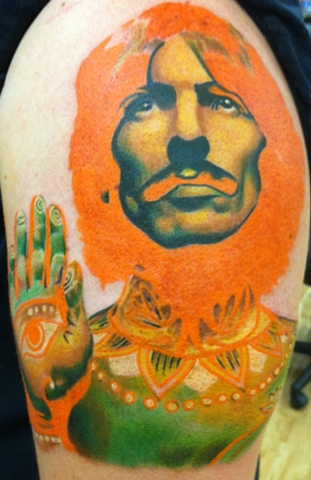 TATTOOING SINCE 1995
I specialize in portraits, realism, black and grey, color and cover ups.
I've been tattooing in Las Vegas since 2005. I've worked at several casino shops (Hart & Huntington Tattoo Co., King Ink, Starlight Tattoo, Vince Neil Ink @ the Rio) and was featured on A&E's reality show "Inked". The casinos were fun but I have found a home at Blue Buddha Tattoo.


PRICING- My minimum is $80 and for large scale pieces the rate is $150/hour. In most cases the tattoo can be finished in one session therefore I can establish a flat rate on the desired image. Portraits start at $400 and go up from there depending on size and detail. The smallest suggested size for a portrait is roughly the size of a softball for the face, any smaller can result in a blurry, unrecognizable mess as the tattoo ages. The better the photo, the better the portrait. Cellphone images and small scale photos can rarely be used.
Blue Buddha Tattoo
4160 S Fort Apache
Suite A
Las Vegas, NV 89147
(702)222-1018